Subtitle : Bahasa Indonesia, Harga Belum Termasuk Ongkir.

FILM SERI JEPANG ORISINAL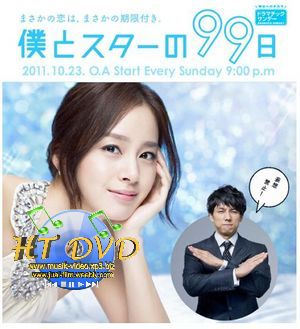 99 Days With Star/Boku To Star No 99 Nichi
Cast : Hidetoshi Nishijima,Kim Tae Hee,Tae Yeon
3 DVD -- Rp 100.000

Genre: Romantic comedy

Episodes: 10
Broadcast network: Fuji TV
Broadcast period: 2011-Oct-23 to 2011-Dec-25

So close and yet so far away...An inconspicuous body guard Namiki Kohei (Nishijima Hidetoshi) is assigned to be a body guard to a mega Korean super star, Han Yuna (Kim Tae Hee). Kohei is less than ordinary, a single man almost 40 in age working part time at a security company. Despite his kind and attractive looks, he is surrounded by people who boss him around with unreasonable demands. He keeps a dream to himself, a desire to someday become an astronomer and find his very own star. He justifies not being able to fulfill this dream to lack of funds and issues with his family.Han Yuna, on the other hand,while having a perfect face and body, loves to eat junk food. She also has a kind heart for helping others in need. While every aspect of her life may seem like a girl's dream come true, she feels a certain solitude being in the entertainment industry.As Kohei and Han Yuna come closer and closer to each other, they become an inseparable couple, discovering true love. Where will the couple end up after the contracted 99 days? A heart-warming love comedy that will make you realize once again how precious love can be.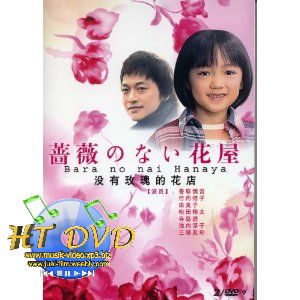 Bara No Nai Hanaya/The Flower Shop Without Roses Cast : Katori Shingo,Takeuchi Yuko
3 DVD -- Rp 100.000

Genre: Human drama, romance
Episodes: 11

Broadcast network: Fuji TV
Broadcast period: 2008-Jan-14 to 2008-Mar-24

Shiomi Eiji is forced to become a single father when his girlfriend passes away while giving birth to their daughter, Shizuku. Desolate after the loss of the woman he loved, Eiji has little time or desire to even consider remarrying, working part-time jobs just to make ends meet. The one thing that gives meaning and joy to his life is Shizuku, but even that begins to trouble him when Shizuku begins acting strange, hiding her face by putting a cloth over her head when around other people.One day after opening his flower shop, Eiji comes across a blind woman standing by the door, taking shelter from the rain. When he invites her to come inside the shop, she at first refuses, but later gives in to Eiji's kindness. They become intimate friends and she slowly grows to depend on Eiji's sincerity and goodheartedness. After rescuing her a following evening when she walks into the street and is nearly struck by traffic,Eiji himself inexplicably discovers the cold of winter that has saddled his heart all these years slowly melting away...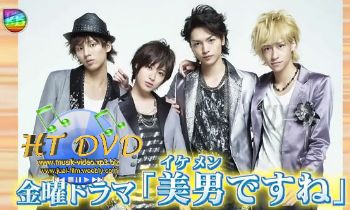 Ikemen Desu Ne/You're Beautiful Versi Jepang Cast : Takimoto Miori,Tamamori Yuta
3 DVD -- Rp 100.000

Genre: Drama
Episodes: 11

Broadcast network: TBS
Broadcast period: 2011-Jul-15 to 2011-Sep-23
Related TV show: You're Beautiful

Miko is a 20-year-old girl. She is pure, but prone to make mistakes. Since her father, who was a composer, died, she stayed at orphanage with her twin brother Mio Sakuraba. Now she is at a convent dreaming of becoming a nun. But, one day, a strange man named Mabuchi asks her to join a famous boy band called A.N.JELL, due to her brother being out of the country. Once she agrees, something bigger than a love triangle, starts to evolve, along with other people intertwined to this story.